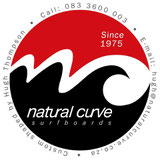 Custom
Shortboard
Classic Fish
Classic Fish
Classic Fish
The Mid
Mini Noserider
Twin Pin
The Tomcat
About
Natural Curve Surfboards was brought into being in the early 70's by shaper Errol (Tickbird) Hickman and board builder Michael (Ginz) Ginsberg, in collaboration with John (Wowee) Plater.
By 1975 the shaper/glasser duo had established themselves in the South African surfboard industry, operating out of their Palmer Street factory in Durban, SA.
With both Hickman and Ginsberg travelling abroad more often, Natural Curve was eventually put on ice and lay dormant for more than 25 years. In 2007 having been original members of the Natural Curve surf team and Natural Curve Skateboard teams, respectively, Hugh Thompson and Gary Smith officially registered the label. Today Natural Curve Surfboards is operating out of Jeffreys Bay and is still the benchmark of quality surfboards in South Africa.
Contact Hugh on +27833600003 or
hugh@naturalcurve.co.za

Hugh Thompson

South Africa
After spending many years in Durban, South Africa, running a big factory doing surfboards nationally and for export, I have scaled down completely and moved my business to Jeffrey's Bay. I now custom shape surfboards which I send to customers country-wide, have my colours done by Stevo Kneelo here in J.Bay and get the boards glassed and finished at Moana Glasshouse in St.Francis. When the work is done and there are waves, I hang up my favourite sign...Gone Surfing!
A personal interest in surfboard design got me into shaping.
Custom models are 100% hand shaped, for repetition work of a model I use a machine
Give me a blank and I shape a board

South Africa