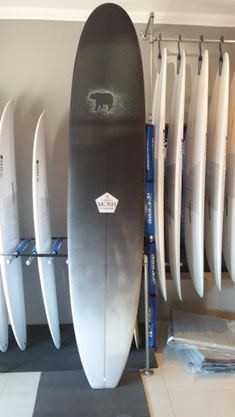 IN STOCK
Tail
Squash tail
Fin Setup
2+1 Fin
About
I have wanted to make my own boards since I was in primary school. Sitting in class drawing art designs and paging through the ZigZag Mag and frothing off of all the local shapers board designs. I never had plans on studying after school so I spent as much time as I possibly could doing repairs and researching board designs etc. When I finished school I got a job and started pushing all my cash into shaping and glassing. I decided to go with Mosh Surfboards as I found alot of simularities between being in the barrel and being in the middle of a mosh pit.

Johan Van Wyk

South Africa
Handshaping, laminating, spraying and sanding. I could honestly say that there is not one aspect in the board building process that I dont like doing. I love every single part of the itchy industry.
Ever since I started surfing I wanted to be a board builder.
Custom models are 100% hand shaped, for repetition work of a model I use a machine
PU and EPS (I love it both)