STECKERLFISH Surfboards
The CozyFish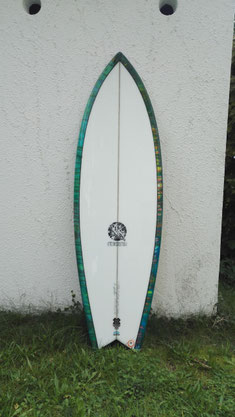 TRANSFER PENDING
COMPLETE
This is a badass oldschool/modern smallwave riverwave fish just to have fun in the water. You can surf it as a classic twinnie or a trifin or at least as a modern twinnie with a trailerfin in the middle. Flat entryrocker at the tail into a smooth noserocker with a small nosekick. Earlyraise doubleconcave from about the widest point into a deeper doubleconcave at the fins area.
Tail
Swallow tail
Fin Setup
Thruster
Fin System
FCS Compatible
Glassing
6+6oz top / 6oz bottom Fiber Glass
Design Type
Multi Color Resin Tint
This board I shape for one of my best friends, more than that, my brother from another mother - John Lizano. This model is built for fun at the riverbreak, but it also can be surfed in the ocean.
CONTACT SHAPER