Natural Curve Surfboards
The "Chine"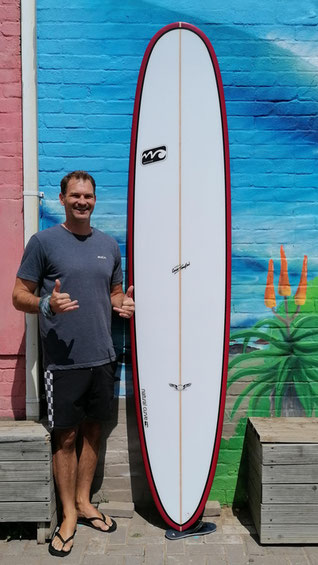 IN STOCK
This is my Chine (bevel) rail design with the Chine running all round the rail. The centre panel is virtually flat running from the exit of the medium depth concave in the nose, right to the tail. The "Chine" rolls beautifully through turns and fade turns and glides effortlessly in trim...subtle direction changes hanging out on the nose are real smooth too.
The "Chine" can be customized to your size and weight and comes in all lengths up to 10'0".
Tail
Rounded Pin
Fin Setup
Single fin
Glassing
6+4oz top / 6oz bottom Fiber Glass
Simon is a large guy and going 9'2" x 23" x 3 1/4" ensured that the board would be big enough to carry his weight but not too oversize to keep it from performing when the waves turn on.
CONTACT SHAPER