KB Surfboards
Noserider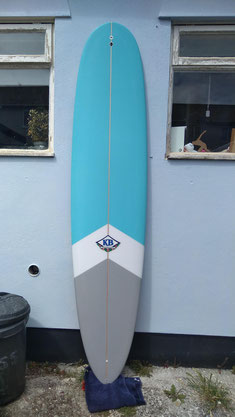 IN STOCK
More foam equals more "tip time"
Size
9'1" x 23 1/2" x 3 1/4"
Tail
Pin tail
Fin Setup
2+1 Fin
Fin System
Finbox + FCS compatible
Glassing
6+6oz top / 6oz bottom Fiber Glass
As a shaper, I wanted to put a little more volume in the board. This helps with wave catching, and nose riding, but does not detract too much from performance. I have kept a low Rocker entry in the nose area, with more Rocker at the tail, combined with the generous hip in the pin tail should make this board easy to turn off the tail.
CONTACT SHAPER
CONTACT OWNER